Freeze time
For 10 years, Elisabeth Gauthier has been working the land. Installed in her small workshop, she experiments and refines her knowledge. She creates functional objects, which, once cooked, will become unique.
Everyday objects that accompany your rituals. Cups, tumblers, glasses and bowls are turned by hand. Once firing is complete, these refined pieces take on their unique character thanks to the glaze.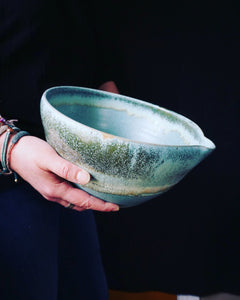 Tailored
It is possible to order an object for yourself or as a gift. Allow 4 to 6 weeks for a special order.
Collaboration
Over the past few years, my ceramic work has evolved through encounters and collaborations. Creation of tableware for restaurants and bars, design of ornamental tiles, exterior signs are some of the projects carried out
Research, alchemy and other hobbies
The universe of ceramics is vast. Techniques, shapes, decorations and firings offer a multitude of results. My research is focused on glazes that can go to a temperature of 1222 Celsius (2232 Fahrenheit)